Life is better when you're connected.
Here at Metro, we believe God designed us to connect with Him and with each other.
For this reason, our LifeGroups help provide opportunities to do just that.
LifeGroups create opportunities for relationship, discipleship and fellowship.
We grow spiritually and relationally when we participate in LifeGroups.
You were not designed to live life alone. God has gifted you with special abilities through which you worship him and encourage others. I want to invite you to share those abilities and grow in your relationship with Jesus in one of our LifeGroup settings.
Below, you'll find a summary of the different LifeGroups offered at Metro. I would encourage you to read through the brief descriptions and select a group that best fits your stage of life. Also, you'll find information about how you can contact group leaders with questions about connecting with a group. If you have questions that aren't specifically addressed here, please feel free to contact Jennifer Browning (jennifer@metropolitanchurch.net)
Let's join together. Let's be the body of Christ and learn and grow with each other. I'm excited about the opportunities to grow and I look forward to your development as you participate in a Metro Life Group.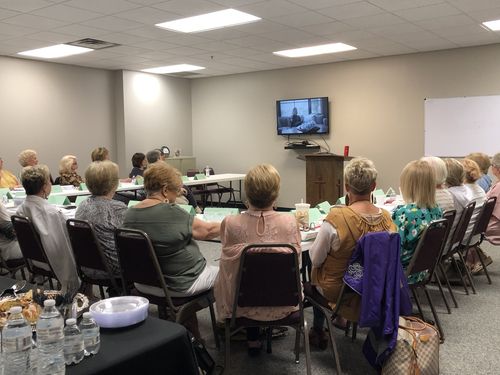 Sunday Morning LifeGroups | 9:00 AM
Metro Kids (PreK-5th Grade)
Metro Kids Area |Various Teachers
Join Metro Kids for different LifeGroups on Sunday Mornings in the Metro Kids area!


Metro Students (Middle & High School )
LDC 1st Floor |Various Teachers
Middle School and High School have LifeGroups for different ages that meet on Sunday Mornings.
Conclave AM (College & Young Adults)
LDC 2nd Floor | Greg Dye
Conclave AM is a great place to find community, fellowship and knowledge. We'll learn spiritual principles to help you deal with all the challenges you face on the road of life.


Family & Faith (Adults)
LDC 2nd Floor | Cary & Amy Miller
Each week, our goal is to grow in relationship with God and others through relevant teaching, great conversations, and encouragement from one another. If you desire to raise your family with others on the foundation of faith, join us!
Women of Wonder (Women)
LDC 2nd Floor | Amy Long
Women of Wonder is a diverse group of women who pray, encourage one another, and learn to apply Bible principles to their everyday lives.



God's Good Life (Adults)
LDC 2nd Floor | Jerald Wilson
This class is for adults who enjoy an interactive, caring fellowship. The teaching is scripture-based with an emphasis on what the Bible says to us today in our season of life. We share a weekly Prayer List, have a special interest in missions, and enjoy connecting with each member.


His Class (Adults)
LDC 2nd Floor | Tom Fridy
Topics are Word-based and varied that manifest the Kingdom of God on earth according to Jesus' model. "The same things I do you shall do also," — John 14:12.



Wednesday Night LifeGroups | 6:30 PM
Conclave U (College & Young Adult)
LDC 2nd Floor |Various Teachers
Conclave U is a great place to find community, fellowship and knowledge. We'll learn spiritual principles to help you deal with all the challenges you face on the road of life.
Freedom (Women)
LDC 214 | Sandy Blackwell
Women of all ages are invited to join for a time of faith building and community.


With Us in the Wilderness (Women)
LDC 210 | Jennifer Browning
This study is for women of all ages.
Don't Give the Enemy a Seat at Your Table (Men)
LDC 209 | Elliot Hicks
Join each week with other men in this study.
Divorce Care (Adults)
LDC 212 | Gale Breckenridge
DivorceCare is a safe place where caring people come alongside you as you find healing from the pain of separation or divorce.
Women of Grace (Women) - Thursdays @ 9:30 AM
LDC 209 | Becky Roberson
Join us as we look at the study, "Forgiving What you Can't Forget" by Lysa Tuerkyrst.
Grief Share (Adults) - Wednesdays at 1:00 PM
Begins in February
LDC 2nd Floor | TBD
A friendly, caring group of people who will walk alongside you through one of life's most difficult experiences.
Evangelism Class (Adults) - Begins in March
LDC 2nd Floor | Paul Schweigert and Cary Miller
This class will focus on ways to share the Gospel at the 2022 World Games in Birmingham.
More info about LifeGroups