Life is better when you're connected.
Here at Metro, we believe that God designed us to connect with Him and with each other.
We were not designed to live life alone. God has gifted each of us with special abilities through which we worship him and encourage others. I want to invite you to share those abilities and grow in your relationship with Jesus through a LifeGroup community.
Below, you'll read about each of the various LifeGroup families here at Metro. I encourage you to find one (or more!) that best fits your season of life.
I'm excited about the opportunities to grow and I look forward to your development as you participate in a Metro LifeGroup.
Contact Jennifer Browning (jennifer@metropolitanchurch.net) for more information.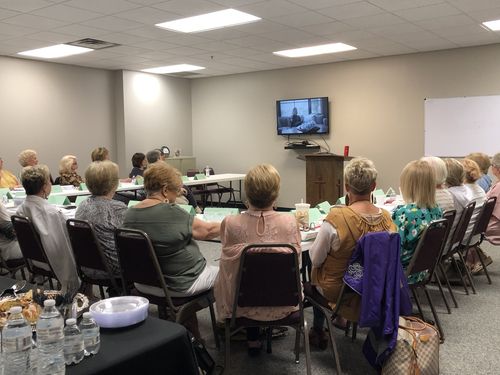 Sunday Morning LifeGroups | 9:00 AM
Nursery Care (Pre-K)
Metro Nursery |Beth Phillips
If you are interested in joining one of our adult LifeGroups on Sunday mornings, or you are simply looking for an opportunity for your child to learn about God and His Word, find Beth Phillips or Bethany Champion at the Nursery! Available as early as 9 AM on Sundays.
Metro Kids (Kindergarten-5th Grade)
Metro Kids Area | Carole Little
This is a chance for our kids to get a more in depth study of the Bible in a fun, interactive way. Kids will learn Bible stories, memory verses, and how to apply those lessons in a practical way. Come visit the Metro Kids on Sundays at 9 AM for Bible study; service following at 10 AM.


Metro Students (Middle & High School)
LDC Floor 1 | Brett & Jordan Owens
(Student Cafe) | Jane Ann Stone
If you are a student who is looking for discipleship with other students your age, look no further! Every Sunday morning, you can find us in the Student Cafe.
Not to mention a FREE Student Breakfast on the 1st Sunday of every month!


Conclave AM (College & Young Adults)
LDC 207 | Greg Dye
Conclave AM is a great place to find community, fellowship and knowledge. We'll learn spiritual principles to help you deal with all the challenges you face on the road of life.


Women of Wonder (Women)
LDC 204 | Amy Long
Women of Wonder is a diverse group of women who pray, encourage one another, and learn to apply Bible principles to their everyday lives. This group is fun, friendly, and relatable!



Family & Faith (Adults)
LDC 203 | Cary & Amy Miller
Each week, our goal is to grow in relationship with God and others through relevant teaching, great conversations, and encouragement from one another. If you desire to be a couple that raises your family on the foundation of faith, join us as we grow together. Good luck finding a seat!
God's Good Life (Adults)
LDC 215 | Jerald Wilson
This class is for adults who enjoy an interactive, caring fellowship. The teaching is scripture-based with an emphasis on what the Bible says to us today in our season of life. We share a weekly Prayer List, have a special interest in missions, and enjoy connecting with each member.


His Class (Adults)
LDC 202 | Tom Fridy
Tom Fridy has been teaching this class for many years, and the momentum has not slowed yet! Topics are Word-based and varied that manifest the Kingdom of God on earth according to Jesus' model. "The same things I do you shall do also," — John 14:12. Join Tom and a host of other adults eager to be refined in the Word on Sundays at 9 AM.



Wednesday Night LifeGroups | 6:30 PM
Conclave U (College & Young Adult)
LDC 201 | Various Teachers
Conclave U is a great place to find community, fellowship and knowledge. We'll learn spiritual principles to help you deal with all the challenges you face on the road of life.
Freedom (Women)
LDC 203 | Sandy Blackwell
Are you looking for freedom in Christ? Are you looking for community with other women? Come join the ladies in LDC Room 210 .
Sandy Blackwell
Open Your Bible (Women)
The Commons | Jenn Browning
Are you longing to hear from God and aching to know who He really is? Pull up a seat with us in the Commons to find ways to open the word and find His truth.
Jenn Browning

Men's Class
LDC 204 | Various Teachers each week
If you are searching for wisdom or just a brother in Christ, join this group of real men each week in LDC 208/209 to hear a real a relatable message from various men of faith in our church.
Divorce Care (Adults)
LDC 205 | Gale Breckenridge
If you are going through the transition of divorce or separation, there is a safe place here for you each week as you discover encouragement and healing from our lovely Gale Breckenridge and the caring community of Divorce Care.
Evangelism Outreach (Adults)
LDC 202 | Paul Schweigert & Cary Miller
World Games 2022 is happening here in Birmingham this Summer, and we are preparing to share the love and gospel of Jesus to every person coming to visit our city. Evangelism Class is where you have an opportunity to prepare the act of confidently sharing your faith with others!
Metro Kids YOUniversity Electives (PreK-5th Grade)

Metro Kids Area | coming April 2022
Beginning in April, the following electives are available for your child on Wednesdays from 6:30 PM - 7:00 PM.
Drums
Metro Kids Podcast
Basketball Bounce
Etiquette
Arts and Crafts
Sewing
Metro Kids Choir 7:00-7:30
Grief Share (Adults) - Mondays @ 5:30 PM
LDC 205 | Rita Case
Grief isn't linear. No matter what stage of loss you find yourself in, Grief Share is a safe place for you to discover comfort and hope in this season.
Encore LifeGroup (Seniors) - Wednesdays @ 10 AM
LDC 202 | Paul Champion
Are you a senior who is looking for Christian community? Join this lively bunch of people who spend every Wednesday morning growing closer to each other, growing closer to the Lord, and growing a garden together!
Women of Grace (Women) - Thursdays @ 10 AM
LDC 202 | Becky Roberson
Hoping to find a godly group of women to do life with? These women gather together each Thursday morning to study the word of God and find purpose through fellowship.


Celebrate Recovery - Thursdays @ 6 PM
The Commons | Chad & Amy Long
Do you struggle with anger, depression or anxiety? Do you have a family member or friend who has addiction in their lives? Celebrate Recovery might be the group for you.
*Free dinner is provided at 6 PM, Service beginning at 6:30 PM.
More info about LifeGroups